St. John

The Evangelist


R.C. Church,

Center Moriches, N.Y.

Inspired by our patron, St. John the Evangelist Roman Catholic Church in Center Moriches seeks to bring the light of Christ to a world in need, so that as Christ has done, we may also do. From the celebration of the Eucharist, we are sent forth to serve God and neighbor through ministries of formation, education and outreach.
Fifth Sunday of Lent - 3/29
St. John's Daily Masses

Live Via Facebook
Click This Facebook Image To Be Taken To SJE's Live Masses Each Morning
Mass Attendance Notes For This Virus Season - 3/20
Come and know God's mercy!
As per the directives of the Diocese of Rockville Centre, the Sacrament of Reconciliation is not to be celebrated in any scheduled or communal way out of concern for your health and safety. Those in need of the sacrament should contact the Parish Office. The priest on duty will set a time to meet you in the church building to hear your confession (face to face or behind the screen). There are not and will not be any scheduled times for confessions in the near future.
Come to the quiet! The church building and Seton Chapel (located in the white convent building) are open from Sunday—Friday: 9 a.m. to 7 p.m. Saturday: 9 a.m. to 4 p.m. for private prayer. No devotions or communal prayers are scheduled or are to take place during these times. All who visit must wash or sanitize their hands before entering the worship space and keep a safe social distance from others. No more than ten people may be in either space at any time. As this situation develops, this may change. Please follow SJE Social Media for the latest updates.
Come and spend some time with the Lord! Exposition of the Blessed Sacrament is postposed until further notice.
Come pray the Liturgy of the Hours! The communal celebration of the Liturgy of the Hours is postponed until further notice. Those who wish to pray may visit unviersalis.com or click here. You may also download the app for your iphone or android device. Those wish to pray may pick up a Christian Prayer book from the lobby of Seton Chapel to keep in these days.
Come and know God's mercy!Our Lady Queen of Apostles The communal praying of the Rosary is postponed until further. Each person who reads this is asked to pray the Rosary daily. Extra Rosary beads are available at the doors of the Church and Seton Chapel. (Please clean them before use though they are new.) Not sure how to pray the Rosary? Click here—https://www.loyolapress.com/our-catholic-faith/scripture-and-tradition/devotions/praying-the-rosary or click here and pray online— https://www.youtube.com/watch?v=VtJM_V8scoo
Praying for One Another In These Days
Each day we ring the church bells at certain hours. They are a call to prayer for different groups of people impacted by the pandemic. Whether you can hear the bells or not, please consider taking a minute to stop and pray each day.
9 a.m. - Prayer for those infected with the virus and all who are ill Lord, place your healing hand on those who suffer illness. Bring them to full health and ease their anxious hearts. May our prayer and the intercession of the Blessed Virgin Mary encourage them that they are not alone. We ask this in Jesus' Name. AMEN
12 p.m. - Prayer for health care workers and those attending to the sick Lord, we are ennobled by those who put their lives at risk in caring for the sick. Keep them safe and embolden them when they are weary. We ask this in Jesus' Name. AMEN
3 p.m. - Prayer for first responders and essential workers Lord, we pray for those who run to danger to keep us safe and those who serve the common good. Embrace them with your mantle of protection and comfort the fears of their families. We ask this in Jesus' Name. AMEN
6 p.m. - Prayer for people of every nation and their leaders Lord, the pandemic opens our eyes to see each other as brothers and sisters in one human family. We pray for people of every nation and their leaders, asking that they be inspired to seek the good of all and quell the voices of division. We ask this in Jesus' Name. AMEN
9 p.m. - Prayer for those who have died today Lord, we grieve the passing of our sisters and brothers who have died this day. We commend them to your tender mercy, confident that nothing, not even death, will separate us from your love. We ask this in Jesus' Name. AMEN.
Another Act of Spiritual Communion
This Act of Spiritual Communion is given to us by our Holy Father, Pope Francis:
I prostrate myself at your feet, O my Jesus, and I offer you the repentance of my contrite heart, which abases itself in its nothingness and in Your holy Presence. I adore You in the Sacrament of your Love, the ineffable Eucharist. I desire to receive You in my poor abode that my heart offers You. While waiting for the happiness of a Sacramental Communion, I want to possess You in spirit. Come to me, O my Jesus, that I may come to You. May your Love be able to inflame my whole be- ing, in life and in death. I believe in You, I hope in You, I love You. Amen. The Angelus The Angelus is a traditional prayer by which we can connect and reconnect with our ever-present God throughout the day. The Angelus is a brief reflection on the incarnation, recalling Mary's yes to God's invitation to bring Christ into the world. Prayed at 6:00 a.m., noon (often accompanied by a prayer for peace), and 6:00 p.m., the Angelus is a pause in the rhythm of our days in which we can recall Emmanuel, God with us. You can view a version of it on our You Tube channel.
ALL: In the name of the Father and of the Son and of the Holy Spirit. AMEN.
Leader: The Angel of the Lord declared to Mary:
ALL: And she conceived of the Holy Spirit.
ALL: Hail Mary... Leader: Behold the handmaid of the Lord:
ALL: Be it done unto me according to Thy word. ALL: Hail Mary . . .
Leader: And the Word was made Flesh:
ALL: And dwelt among us. ALL Hail Mary . . .
Leader: Pray for us, O Holy Mother of God,
ALL: that we may be made worthy of the promises of Christ.
Leader: Let us pray:
ALL: Pour forth, we beseech Thee, O Lord, Thy grace into our hearts; that we, to whom the incarnation of Christ, Thy Son, was made known by the message of an angel, may by His Passion and Cross be brought to the glory of His Resurrection, through the same Christ Our Lord. Amen. In the name of the Father and of the Son and of the Holy Spirit. AMEN
Online Donations Are Always An Option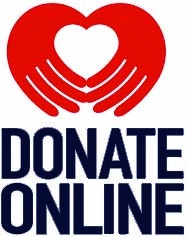 Please Note:
If you are able, please support our parish weekly during these times. The last two weeks have been tough in terms of collection and financial support (down over 70% last weekend as of 3/23/20).
This parish community only survives and thrives week after week because of you and your generosity and support.
You can make a donation online—www.sjecm.org and click on "Give Online" - or mail or drop off your donation at the Parish Office.
We are coming upon some pretty tough financial times and consequences in the weeks ahead.